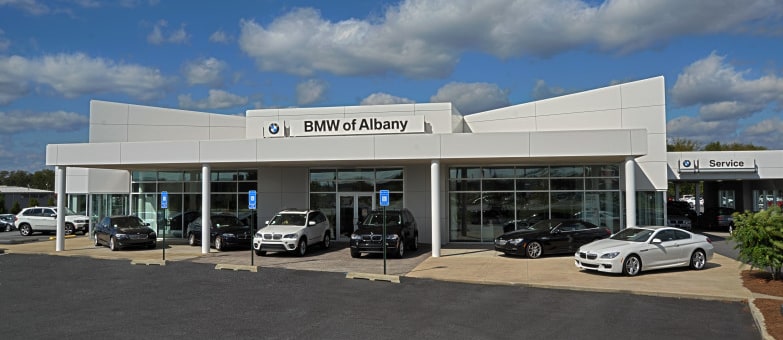 BMW of Albany is located in Albany, GA just off the I-75 highway and right in between the hubs of Valdosta and Macon. We've been serving the entire state of Georgia with quality used cars near Albany, GA for drivers from all over our great state. And we're proud Georgians - our staff aren't just employees of the BMW of Albany dealership, they're your neighbors, friends, and family who live and work in the Albany, GA area. Our goal is to make customers for life of anyone that visit our dealership.
To achieve that goal, we've set out to be one of the premier used car dealers in Albany, GA and a go-to destination for anyone in the market for a quality used or CPO BMW they've always wanted.
Take a minute to look through all the BMW of Albany, GA used cars for sale right here online. If you see a vehicle you like online and have questions about it, don't hesitate to contact us directly, or simply stop by to speak to one of our knowledgeable sales reps. While you're here you can take any vehicle you like out for a test drive, to really see if that used BMW you had your eye on is right for you.
As your used car dealer in Albany, GA, BMW of Albany is excited to welcome you to our dealership, and excited to help you realize your dream of being a BMW owner.
The Best Albany, GA Used Cars
Our used car inventory includes only the finest BMW vehicles currently on the road in many makes and models. Whether you're interested in a sedan, two-door, convertible, SUV or crossover, you'll can find the perfect used car in Albany, GA within our used car inventory we have in stock right now.
Are you searching for that perfect entry-level luxury sedan to kick start your new life as a luxury car owner? The BMW 3 Series is the most popular luxury sedan in the world. With refined styling, tons of performance, and a price point that won't break the bank, a used 3 Series is the perfect car for just about anyone.
If you need a bit more space, check out the BMW X5, a spacious luxury crossover SUV. Stocked full of quality BMW engineering under the hood as well as BMW styling and luxury amenities, the X5 can get you and your family to any destination in refined luxury.
Or for the thrill-seekers out there, make sure to check out a used M Series, the sport edition that leaves all other competitors in the dust.
 So no matter what type of used car you're looking for, the BMW of Albany team is ready to get you behind the wheel of one today. We can answer all your questions and provide the necessary guidance you want when it comes time to start thinking about investing in a used BMW car.
We're one of the premier used car dealers in Albany, GA that sells both quality new and used cars at our dealership on 801 E. Oglethorpe Blvd in Albany, GA. See how the value of a used car from the Albany GA BMW dealership can save you big on a car that will last for years. Come see us today!